Snapshots of our Learning in Puāwaitanga …
Throughout the year, we engage in rich learning activities. These are linked to our Inquiry Learning and in turn are integrated through our learning each day. Check out these photos to see what we have been up to:
---
Tītiro Ki Ahau I Te Tuatahi – Start with ME in the Mirror
Puāwaitanga took to the trees as part of their inquiry learning. They challenged themselves physically, mentally and emotionally and built their confidence along the way. Learning about 'Keeping ourselves and others safe' was amazing to see in action! A HUGE thank you to all our parents who came along and supported our tamariki!
Language Weeks
Celebrating diversity all year round!
Extreme Edge Indoor Rock Climbing
Me Whakāro Rangatira … Think Like a Leader.
Puāwitanga linked Te Whare Tapa Wha to our Inquiry LEOTC. We connected our indoor rockclimbing enhances our Hauora … Te Taha Tinana, Te Taha Wairua, Te Taha Hinengaro & Te Taha Whanau.
We lead ourselves AND we also helped to lead others during this learning experience.
Red Sock Day​​
Red Socks have become a reminder of the importance of dreaming big, and a celebration of the unbeatable Kiwi spirit that makes those dreams happen. We remembered Sir Peter Blake and wore our red socks during Leadership Week and to our Y5-8 Leadership Assembly. In Puāwaitanga we are growing our leadership capabilities!
Social Curriculum
All students in Puāwaitanga worked in small groups to form their ideas of which positive behaviours we should be showing / living by in our team and at our school. A committee of students was then formed, they collaborated in order to bring all the ideas together from each class. Below is our Code of Positive Behaviours – it is colour coded, the committee chose the best statement from each Y5-6 classroom.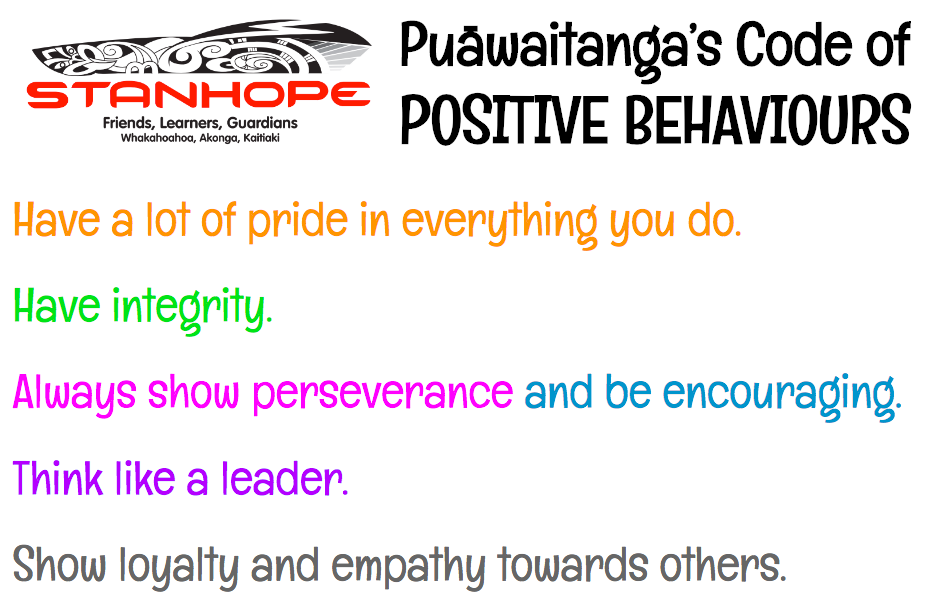 The Mind Lab & M.O.T.A.T
To infinity and beyond … what's out there?
Science & Engineering with The MindLab        |        Group exploration through M.O.T.A.T
Puāwaitanga Term 1 Newsletter